What causes Black Vertical Line on a LCD\LED TV panel screen?
Black Vertical Line on a LCD/LED TV panel screen can be seen due to same reasons similar to horizontal lines: screen damage, loose cables and wires, or a defected T-Con board. If we leave the TV panel turned on for a long period of time might also cause black vertical line.
In the case of failure in TV panel screen, the black vertical line is created due to the interruption of the data entry path in the vertical control circuit.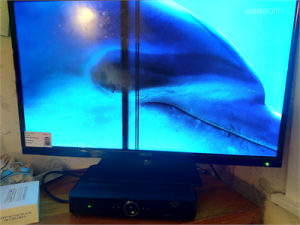 How to fix

Black Vertical Line on a LCD\LED TV panel screen by Laser Machine?
To repair by laser machine, it is always better to observe the type of screen fault with the naked eye in the first step. There are many ways to find the exact location of the fault with the naked eye, i.e., playing the screen in different patterns or instantly cutting the input power of the screen.
The ZMST-L80 laser machine has an optical system with 5, 10 and 20 times magnification, which not only has the ability to magnify, but it can also shoot the laser beam from inside the lens at the same time.
The user finds the damaged path under the pixels indicating the defective vertical line using optical system. In the repair process, after identifying the inactive vertical control line, we connect the vertical line to a similar line, which can be 6 lines on the right side or 6 lines on the left side. The connection operation is done by laser shooting. The point is that the auxiliary circuits throughout the panel are usually thicker around the panel.
You can check out the process of the black vertical line by Laser Machine ZMST-L80 in the following video.
For getting more information about Laser Machine ZMST-L80 technical features click on the link. Moreover, please feel free to chat with us on WhatsApp [WA icon].
Are you interested in find out more about our Bonding Machines? Please click on the link Bonding Machine 908 Pro and Bonding Machine SWO 1904 Pro.