Pulse Heating Method

Titanium Alloy Head

For 10-110 inch | 2K 4K 8K Panels

X/Y/Z COF Trimming 

Adjustable

Adjustable Temperature Curve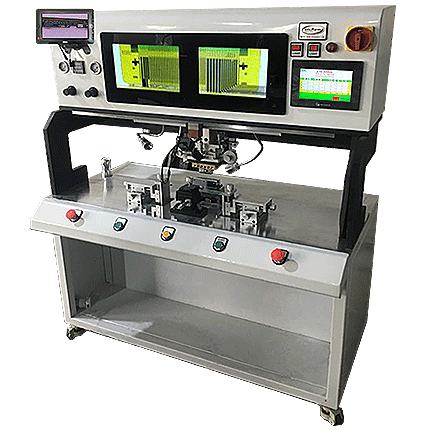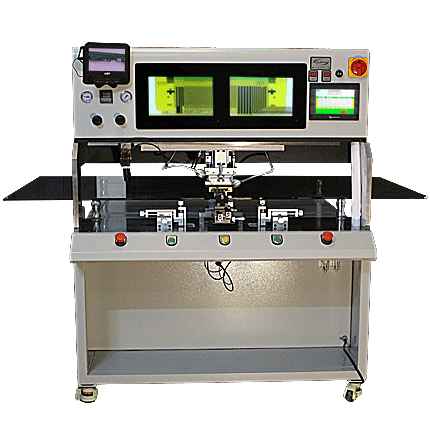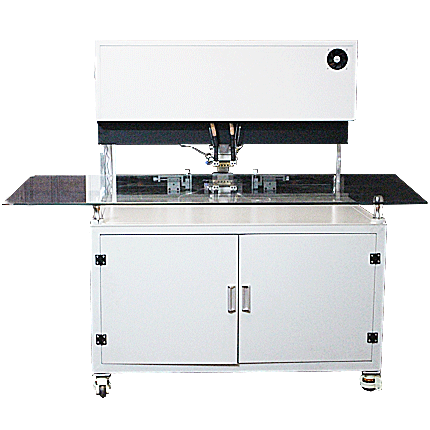 Principle Summary
Through the ACF adhesion and also ACF Bonding Machine (or called LCD Repair COF Bonding Machine), the ACF conductive particles blast to make ACF adhesive materials curing under certain temperature, pressure and time, so as to realize LCD glass or PCB with FPC mechanical connections and electrical conduction. 
Product Advantage
Being able to tackle the numerous problems such as vertical, horizontal, black belt, black line, color line, ribbons, multi-line, flower screen, black screen and white show caused by FPC/TAB/COF

For the combination of hot state all kinds of FPC, LCD and PCB

Available Panel:

10 to 110 inch

, all different brands

2K

,

4K

and

8K

of LCD | LED panels
Imported SIEMENS PLC control system from Germany, to make the equipment running stable and reliable
Equipped with full set of image unit, using 3 camera lens, high magnification camera system, to ensure that the electrode is clear and alignment along with an independent PCB, COF display, improve work efficiency.
Using Taiwan production of COF trimming unit, X/Y/R angle adjustable, large stroke up to 12.5 mm and the accuracy of 0.01.
Imported titanium alloy heat press head from America, the hot pressing surface precision to 0.005 mm, when the hot pressing head alignment, can set the cylinder stop in the direction of the upper or lower direction.
Save multiple-groups profiles according to the need, set and modify the temperature parameter on the touch screen at any time
Equipped with alarm device, encountered a variety of anomalies including air pressure anomalies, temperature anomalies, thermocouple abnormalities, abnormal movements and so on, will be issued a warning. Separate double security start button, emergency stop button.
Multi-functional and humanized operation use high definition human-machine interface, PLC control.
Safety protection function with double restart protection and emergency stop-switch.
Consisting of alignment systems with high-definition COF lens and industrial displays.
Permanently adjustable temperature curve with peak temperature tolerance of +/- 1 degrees Celsius
Response time is 3-4 seconds from room temperature to 180 degrees.
Several languages available for selection such as English, Arabic, Farsi, French, Chinese and Korean to mention but a few
COF accurate alignment along with the high rate of LCD repair success
Product Specification
Heating Method: Pulse
Wight: 210 kg
Size of Machine (mm): 1400*1030*1160
Working Pressure: 0.35 – 0.40 Mpa
Temperature Curve: +/- 1 degree Celsius
Plane Precision (ot-pressing side): 0.005 m
Size of Heat Press Head: 1.2*52 mm
Adjustable Temperature: 200-300 degree Celsius
SMS Cylinder: Double cylinder output
Microscope Magnification: 20-100 consecutive times
COF Trimming Adjustable Direction: X/Y/Z
Up and Down Lights: Yes
Leakage Switch: Yes
Wave Filter: Yes
LCD Drive Platform: Fixed
Control Way: Touch screen + button operation
Voltage: AC 220v
Peak Power: 500w
Product Function Buttons
Major Modules

Panasonic FPX C14T (TC2)
made in Japan

Head OEMG
made in USA

Cylinder SMC
CDQ2A40-75DM
made in China

COF holder
made in Taiwan

Trans
made in Taiwan
Quartz
made in USA

Quartz holder
made in China

Monitor 2 pieces 14 inch
made in China

Monitor
made in China

SSR Crydom CWD4860
made in China

Air Control 4V210-08
made in China

Control Unit RIH AW2000-02
made in China
Metal Framework
made in Iran | Qualified by SWO Chinese Manufacturer
Accessories Supplemented to Product

ACF Glue 2 mm Hitachi

ACF Glue 1.2 mm Hitachi

ACF Remover Container

Magnifier

COF Cleaning Sponge

Silicone Rubber
Magnifier equipped with Lamp

Plastic Bottle

COF Cutting Blade

Alcohol

Acetone
ACF Cutter
ACF Tweezers

COF Tweezers

Testing Head Tissue

T-shaped Iron Head

Welding Iron 40 W

Welding Iron 60 W

Teflon

ِDropper
Free Training
In order to service for more clients, our company provides with Free Training to operate ACF Bonding Machine H908 Pro. The contents of training are as follows:
Mastering how to use Bonding Machine
Mastering the technology of COF replacement, heat press standards and operation control
Mastering how to clean COF, LCD glass and PCB
Mastering the working principle and fault diagnosis of LCD-LED panels
As you can figure out via taking a look at the video below, our qualified masters, Dr. Mehrab Pournasir and Eng. Amir Palik, are devoted and committed to instruct the clients to achieve their requirements both theoretically and empirically. Hope to have you too with us!!
Our Clients' Testimonial
We are indeed proud of our LCD Repair COF Bonding Machine clients' satisfaction.
7900$ 5900$